A bit about myself…
---
I was born on September 1, 1969 in Neuilly-Sur-Seine. I spent my first few years in Blois, in the heart of the Sologne region. In 1974, my family moved to Brussels, Belgium, since my father Michel, who worked for a company selling pharmaceutical and parapharmaceutical products, was transferred there. I attended the Lycée Français de Belgique (French Academy of Belgium), where I completed my studies. It is there that I learned the basics of horseback riding and got my first dog, a boxer named Yram.
An animal lover from the start
This first dog unfortunately had health problems and we had to relocate him to the countryside. Following this, my first Shi Tzu was adopted my the family and he became my guinea pig for experiments in hairdressing. In 1986, we left Brussels and returned to France, this time to Paris. Thus began a period of my life which was focused on academic studies. With a Bachelor of Science degree in my pocket, I thought at first of going into veterinary medicine but ended up moving toward commerce and marketing. A BBA and MBA later, I joined the family company in Romorantin, Sologne, where I worked as a marketing manager for 15 years. I also returned to the field of horses and riding competitions and slowly grew my pack of dogs.
In 1998, the thought of becoming dog groomer started running through my mind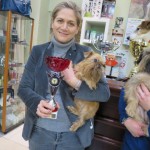 It was when I left the family business in 2008 that I began to put into practice my desire to work with dogs. A meeting with Alain Treins, one of the most famous French groomers, international grooming champion and gifted trainer, got me started. Alain Treins agreed to take me on at his salon and provide the necessary training. With him, I spent 18 months learning grooming techniques as well as styling for different breeds and physiques.
In 2010, Alain encourage me to enter the Championnat de France (Championship of France), where I won a silver medal with a "new look" given to a small Shi Tzu. In 2011 I won a bronze with a cut done on a little Griffon Bruxellois.
Making it on my own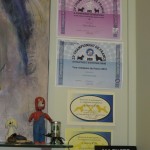 But it was time to fly with my own wings, and I thought about how to find "my" spot. By chance I learned that Marie Cavalieri D'Oro wished to retire and wanted to find a successor for A.D., her Paris salon. We met and it clicked. We had the same philosophy, even through I was more interested in directing the work of the team toward academic cuts and entering grooming competitions. We were of one mind on cosmetology, both being very vigilant regarding the care protocols used on each dog or cat. Marie transferred her salon to me in September 2011 and thus began the Pet Esthé adventure.