Biographie
________________________________
Since 2007, Gwendoline Vernant learned and has practiced Pet Esthétique under the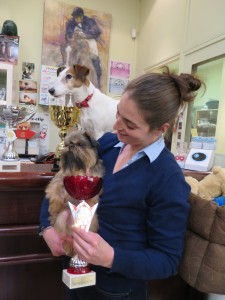 supervision of Marie Cavalieri D'Oro, current Honorary President of PEIA France. She now works in Paris with Sophie Guillosson, Master Instructor at PEIA.

She is known for her high level of skill in grooming. During the Championship of France, Gwendoline won the first prize gold medal with a cocker spaniel, the second prize with a Shi Tzu and the third prize for a trim given to a little Griffon Bruxellois. In 2014, she was awarded a silver medal in the Class Pro contest for a haircut given to a cat.
Gwendoline est also a Pet Esthétique dog massage specialist.